Deck Railing Builder Asheville NC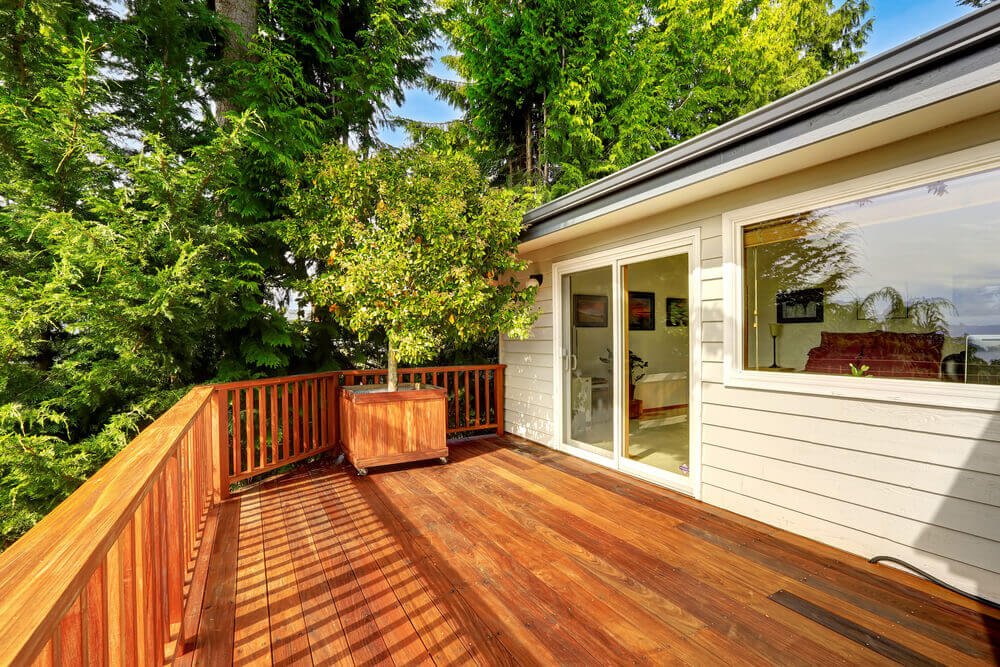 Deck Railing Contractor Asheville, NC
Looking for a deck railing builder? Look no further!
Deck Builder Asheville NC offers a wide variety of railing materials and colors to choose from, so you can find the perfect railing for your home. We also offer a variety of safety features to make sure your deck is safe for your family and friends.
Our deck railings are not only beautiful but also incredibly functional. Our horizontal railing is perfect for those who want a more modern look, while our traditional materials will give your deck that classic feel.
Contact us today to get started on building your dream deck!
Professional Railing Builder Asheville, NC
We specialize in custom designed and built decks, railings, pergolas and more. Our experienced team of professionals will work with you to create the outdoor living space of your dreams. We use the highest quality materials and craftsmanship to ensure a lasting, beautiful addition to your home.
We will work with you from concept to completion to ensure your vision for the perfect outdoor living space becomes a reality. Our experienced team of professionals will help you select the best materials including wood, composite, vinyl, or aluminum for your needs. We also offer custom designs and creative solutions to fit any budget.
We understand that your outdoor living space is an important part of your home, and we take pride in building unique structures for you to enjoy. Our railings are built to last, with quality materials and craftsmanship guaranteed. We provide free estimates so you can make sure our services fit your budget before committing.
Contact us today to get started on creating the perfect outdoor living space. We look forward to working with you!
Why Choose Us for Deck Railing?
There are several reasons why you should choose us for your deck railing:
Improved safety: Having a well-constructed and sturdy deck railing can greatly improve the safety of your outdoor space, especially if you have small children or pets.

Enhanced aesthetics: A well-designed and stylish deck railing can significantly improve the overall appearance of your outdoor space, making it more inviting and visually appealing.

Increased property value: A professionally installed deck railing can increase the value of your property, making it more attractive to potential buyers or renters.

Improved functionality: A deck railing can provide additional support and stability to your deck, making it easier and safer to use.

Customization options: Our deck railing service allows you to customize your railing to fit your specific needs and preferences, including design, materials, and color options.

Professional installation: Our team of experienced professionals will ensure that your deck railing is installed properly and to the highest standards, giving you peace of mind and confidence in its durability and longevity.

Maintenance-free: Many of the materials we use for our deck railing installations are low maintenance and require minimal upkeep, saving you time and money in the long run.

Durability: Our deck railing installations are built to last and can withstand harsh weather conditions, ensuring that your outdoor space remains safe and functional for years to come.
The best maintenance free deck railing options include:
Aluminum railings:- These railings are corrosion resistant and require minimal maintenance. They can be powder coated in a variety of colors to match the exterior of your home.

PVC or vinyl railings:- These railings are also low maintenance and do not require painting or staining. They are available in a range of colors and styles.

Glass railings:- These railings offer a sleek and modern look and are easy to clean and maintain. They are also safe and sturdy, as the glass is tempered and held in place by strong mounting brackets.

Stainless steel railings:- These railings are strong, durable, and resistant to rust and corrosion. They are easy to clean and maintain and can be paired with wood, glass, or other materials for a unique look.
Overall, the best maintenance free deck railing will depend on your personal preferences and the style of your home. It is important to consider the material, style, and durability when choosing a railing for your deck.
Here are some steps you can take to prevent your deck railing from warping:
Use high-quality materials: Choose materials that are resistant to warping and weathering, such as composite or vinyl.

Install proper supports: Make sure your deck railing is properly supported with sturdy posts and brackets to reduce the risk of warping.

Protect the wood: Use a wood sealer or stain to protect the wood from moisture and sunlight, which can cause warping.

Avoid overloading: Do not overload your deck railing with too much weight, as this can cause it to warp.

Regular maintenance: Regularly inspect your deck railing and make any necessary repairs to keep it in good condition and prevent warping.

Choose a reputable contractor: If you are hiring someone to install your deck railing, choose a reputable contractor who has experience with this type of work.
Call US (24/7) For Deck Railing Service!